Anime list
Vaatamisi: 186
Kimi no na Wa
The story is set one month after a comet has fallen for the first time in a thousand years in Japan. Mitsuha, a high school girl living in the countryside, wants to live in the city because she is tired of life in the country. Then, there's Taki. He's a high school student living in Tokyo with his friends while working as a part-timer at an Italian restaurant. He also has a strong interest in fine arts involving architecture. One day, Mitsuha dreams of herself as a young man. On the other hand, Taki also has a dream where he is a female student attending high school in the countryside. What's the secret behind their dreams?
Blue Spring Ride
Yoshioka Futaba has a few reasons why she wants to "reset" her image & life as a new high school student. Because she's cute, she was ostracized by her female friends in junior high, and because of a misunderstanding, she couldn't get her feeling across to the one boy she has ever liked, Tanaka-kun. Now in high school, she is determined to be as unladylike as possible so that her friends won't be jealous of her. While living her life this way contentedly, she meets Tanaka-kun again, but he now goes under the name of Mabuchi Kou. He tells her that he felt the same way as she did when they were younger, but now things can never be the same again. Will Futaba be able to continue her love that never even started from three years ago?
Say "I love you"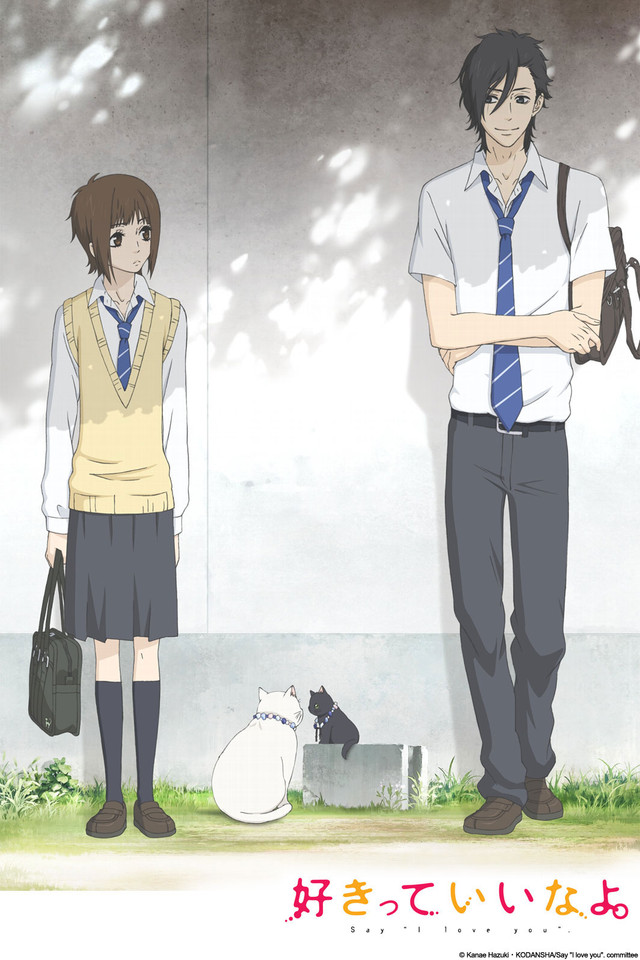 Mei Tachibana was once a regular girl who enjoyed hanging out with her friends. But after a traumatic incident where all her so-called friends suddenly turned their backs on her, Mei's idea of friendship changed forever. In order to stop herself from ever going through the same awful experience again, she decides to stay away from people as much as possible, and ideally, to never make any friends ever again. This tactic seems to have worked relatively well in her current high school life, and she didn't at all mind being thought of as gloomy and strange. However, the appearance of Yamato Kurosawa—one of the most popular boys in her high school—shakes her stable foundation of an introvert, and makes her question whether or not her choices were indeed the right ones. Not only does Yamato not ignore her like everyone else seems to be doing, he also decides to freely give her his phone number! As their relationship slowly develops, and is marked with an unexpected kiss, Mei is finding it very hard to adapt to this new life style, and hardest of all, to express her true feelings towards Yamato. Sukitte Ii na yo. follows their developing relationship, as well as their frequent disagreements, to portray how difficult it can really be to say "I love you."
My Little Monster
Mizutani Shizuku is the type of person who only cares for her own grades. But when she accidentally delivers lesson notes to Yoshida Haru, he becomes convinced they are friends. Haru turns out to have a very innocent personality, but who would've thought that Haru would actually confess to Shizuku? A cold-hearted girl and super-troublemaker romance with a fresh new perspective.
The story is set one autumn at the beginning of the 21st century in the Uchihama area. Uchihama Academy is growing by leaps and bounds. With the construction of a new school building, there will be one last General Club Festival at the old building that is slated to be closed. The students vow to go all out to make this final cultural festival a success.